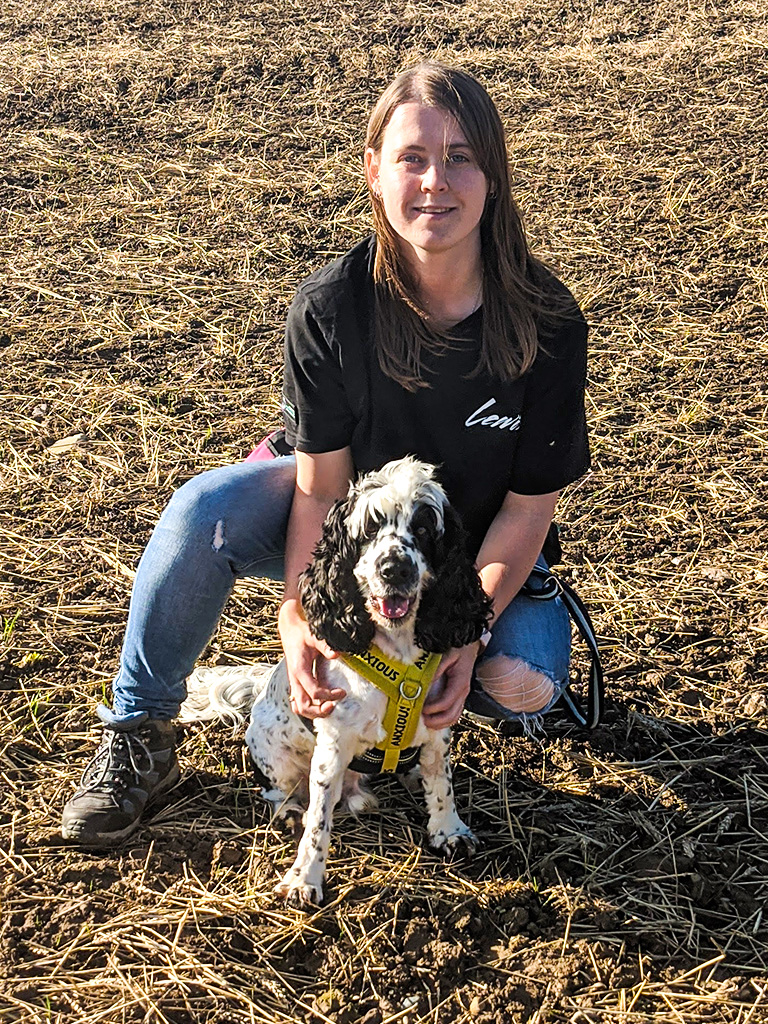 I first qualified as a Registered Veterinary Nurse in 2016 from Harper Adams University with a bachelor of science degree. This opened up my career to working with clients and their companions helping to provide veterinary treatment and recovery support, to clients and animals during their times of need. I continue to work as a locum veterinary nurse for local veterinary practices.
At the beginning of my veterinary career, I brought home a cocker spaniel puppy and welcomed him to our family, naming him 'Saxon'…. and this is where my whole life and career started to change.
Saxon was a very lucky puppy to join our family. From an early age he showed substantial behavioural problems from reactivity, separation issues, repetitive behaviours, and inability to deal with everyday life. I would find myself asking, what have I done wrong? Everything was set up for him to succeed in life but he wasn't meeting the benchmarks for a normal dog. This led me on the endless search for help and support, which often came up empty handed. These behaviour concerns after many years, have now been linked to medical problems which had remained undiagnosed. It took 4 years before tests were available to diagnosis his condition. During this time, it fuelled my desire to constantly learn more about canine behaviour and how behaviour runs closely to medical conditions.
This led me to complete a Masters degree in Clinical Animal Behaviour at the University of Lincoln in 2021 and becoming CCAB certified in 2023. Throughout the UK there is still a shortage of people qualified to help pets with their behavioural problems. This in turn means clients are not getting the help with how to best help their pets. Having been in this position with my own companion years ago, and not knowing what way to turn, it can be a very lonely place. This drives me to be able to help and support clients with their pets and assist them to achieve their joint goals and desires.
Everyone has their own story with their pet and I want to be able to help people write their own stories, how they want them be written.
Qualifications and Member associations:
I work under and fully support the Code of Coduct from CCAB Ltd. This can be viewed at CCAB Certification | How to become a CCAB (https://www.ccab.uk/).
Provisional Members of the APBC have demonstrated that they have the appropriate level of Knowledge
and Understanding for the professional role of Clinical Animal Behaviourist (CAB). They are
now gaining the practical experience necessary to be assessed as a CAB and therefore
become a Full Member of the APBC. The APBC supports its Provisional Members undertaking
behaviour consultations.
Forrest Animal Behaviour Mission statement:
Our mission is to support people to achieve their goals and desires with their companions, no matter the circumstances, using ethical and up-to-date methods.